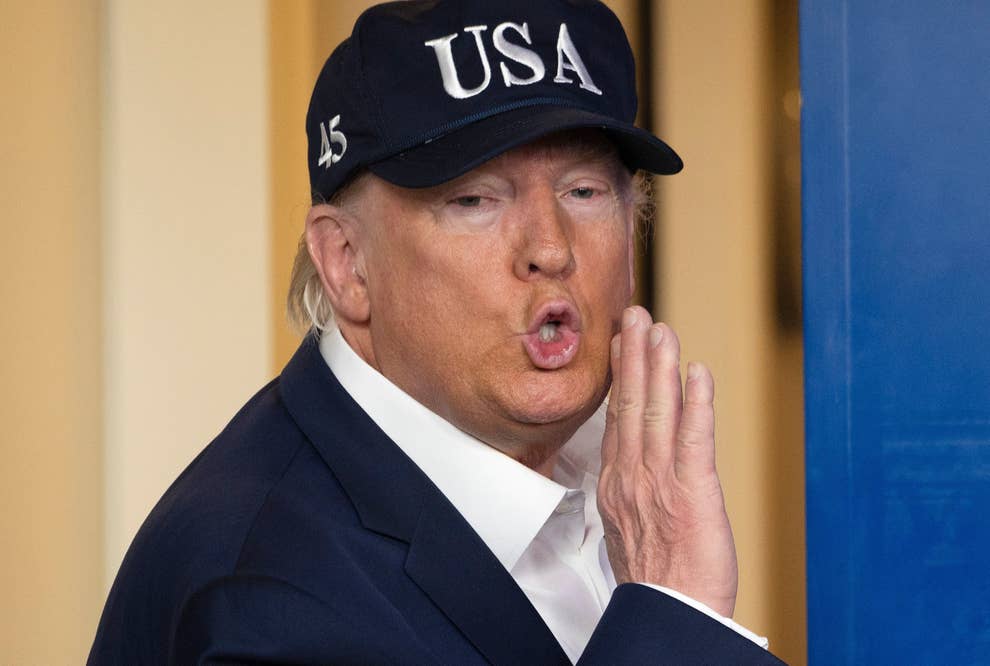 Trump is quite likely contaminated and is spreading the virus. His lies and stupidity are finally catching up to him:
So which is it? The White House physician writes late Friday that there was no need for the President to be tested for the Coronavirus. That he is "without symptoms." Which is besides the point since you can have contracted the virus and are without symptoms. His proximity to people who have gotten sick warrants that Trump be tested.
On Saturday, during a press conference, Trump said he was tested "last night." Doesn't that sound suspicious?
The language used by Trump and his physician is intended to deceive. They talk about no fever or symptoms:
"Last night after an in-depth discussion with the President regarding COVID-19 testing, he elected to proceed," according to the statement about the results released by press secretary Stephanie Grisham with Trump's permission. "One week after having dinner with the Brazilian delegation in Mar-a-Lago, the President remains symptom-free. I have been in daily contact with the CDC and White House Coronavirus Task Force, and we are encouraging the implementation of all their best practices for exposure reduction and transmission mitigation."

Trump said Saturday he had also had his temperature taken Saturday before entering the White House briefing room. The President told reporters that his temperature was normal.
The White House physician had previously said in a memo that the President "remains without symptoms, testing for COVID-19 is not currently indicated."

Asked when he would announce the results of his coronavirus test, the President said that the test was sent to a lab and could take a day or two. Trump said he took the test "only because the press is going crazy."

CNN
It doesn't add up:
Trump said earlier Saturday that he had been tested for the coronavirus, directly contradicting a White House memo from Conley sent late Friday night stating that the president did not need to take the test.

Speaking to reporters Saturday afternoon, Trump said that he decided to get tested "based on the press conference yesterday."

"I took the test last night," he said. "People were asking, did I take the test?"

Trump said he was tested Friday night, which is exactly when his own doctor sent an official memo explaining that the president would not be tested or self-quarantining. Trump had previously come into contact with two Brazilian officials who tested positive for COVID-19, one of them being Brazilian President Jair Bolsonaro's press secretary, Fabio Wajngarten.

BuzzFeedNews
Even if Trump had been tested he would have known the results right away:
President Donald Trump told the nation that he was tested for coronavirus Friday evening, but claimed that he would not receive test results for "a day, or two days."

Virologist and epidemiologist Joseph Fair told MSNBC anchor Alex Witt that the results should already be known.

"Yeah, I mean, typically a test like this, what we call a RTP-CR [reverse transcription polymerase chain reaction] takes around two hours completely," Fair explained. "And I would think if the president was tested, it would be a two-hour turn around on the assay."

RawStory
Even if Trump was tested Friday/Saturday, he had a duty to have done it early on. When he realized that the people he had been in contact with were tested positive for the virus that is the time he should have looked into his own status. That was not a matter of debate. He had a responsibility to all those around him. Including his own family:
He said he was finally prompted to seek testing after reporters asked him during a press conference yesterday whether he would do so—a press conference in which he was surrounded by other people. By waiting this long to get tested, Trump engaged in gross dereliction of duty. Not only might the president fall gravely ill himself, but he might—and quite possibly already has—spread the illness to others. He has engaged in risky behaviors long after he should have stopped: shaking hands, sharing microphones, gathering crowds, standing very close to people of advanced age.

David Frum